CIVIL ENGINEERING
ROAD AND BRIDGE DESIGN
STUDY PROGRAM
Introduction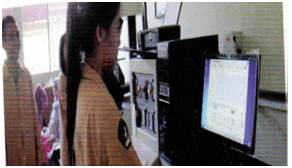 Civil engineering is one of the oldest departments in State Polytechnic Sriwijaya. It was founded in 1982. It has produced thousands of alumni who work in government and private agencies. Civil engineering department continues to develop. The strength of Civil Engineering that support its development is:
B level of Accreditation
Job market for graduates is promising
Waiting time for graduates to get first job is relatively short
Development of infrastructure is increasing
It has applied science bachelor Degree (D IV)
Production based education system
Relevant educational background faculty
Facilities available can be used not only for supporting the process of teaching and learning but also for publictrainings and services
Vision
Road and Bridge Design Study Program of Civil Engineering Department State Polytechnic of Sriwijaya as  leading, professional, qualified institution of higher education for road and bridge design as well as able to compete global challenges based on the five principles  and Constitution '45.
Mission
Producingqualified, disciplined and virtuous graduates who are able to applyscience and technologyand develop themselvesin facing theadvances ofCivil Engineering especially in road andbridge areas;
Improving thequality of educationandapplied research cultureas well as beinnovativeon market production by cooperating with other parties in roadandbridge areas.
Purposes
As an effort to fullfil job market demand of labors that is professional, reliable, skilled, and able to answer and solve various problems in road and bridge design  engineering.
Targets
At the end of academic year2013/2014at least75% of graduates'GPA  ³25;
At the end of theacademic year2013/2014at least80% of graduates' jobwaiting period£6months;
At the end of theacademic year2013/2014at least 30% of graduates have at leastone (1)certificate ofexpertise/skill;
At the end of the academic year 2013/2014 the number faculty research least 5 titles per year;
At the end of the academic year 2013/2014 the number of community services at least 5 titles per year.
Strategies to achieve targets
Strategies For Achieving Target I
1. Design and prepare materials and learning process that correspond with stakeholders desired competencies;
2. Monitor and control learning processes;
3. Improve instructional methods and media.
Strategies For Achieving Target 2
1. Cooperate with industry;
Establish communication links with alumni;
Conduct debriefing for prospective graduates.
Strategies For Achieving Target 3
1. Cooperate with the professional associations especially with LPJKD South Sumatra;
2. Establish communication links with Polsri Alumni Association;
3. Invite alumni to share experience with prospective graduates;
4. Implement training and competency testing in civil engineering field.
Strategies For Achieving Target 4
Cooperate with other parties in doing researches;
2. Conduct research method trainings for faculty;
3. Invite guest lecturers.
Strategies For Achieving Target 5
1. Cooperate with stakeholders in conducting community service;
Conduct training about community service for faculty.
Graduates' Profile
Produce  professional, disiplined, dedicated, creative, innovative, good morality, religious graduates who master science and technology in planning, supervising and implementing road and bridge construction.
Learning Outcomes
Able to applytheir expertiseandutilizescience, technology, and/orartof their expertise in solving problems;
Able toadapt toworking situation;
Mastertheoreticalconcepts of sciences needed in civil engineering areasin generaland master specialized theoreticalconcepts of these sciencesin depth, and able to solve related admistrative problems;
Able to take right decisions based on information and data analysis, and able to provide guidance in selecting various alternative solutions individually and in group;
Responsible for individual work and organization's achievement.
Graduates' Competences
Core Competences
Able to design, implement, monitor and manage road and bridge construction.
Supporting Competences
Students have the ability and expertise in the areas of:
Roadandbridge design;
Roadandbridge Engineering;
Pavement engineering;
Roadandbridge constructionprojects;
Roadandbridge construction, monitoringandmaintenance;
Aspects oflegalethics.
Other Competences
Able to use road and bridge construction software;
Able to communicatein English.
Training  Services
Road Construction Supervisor
Bridge Construction Supervisor
Contractor
Contractor
Road Construction Planner
Bridge Construction Planner
Production and Consultation Services
Soil Testing
• Surveying
• Asphalt Test
• Construction Material Test
• Concrete Test
• steel Test
Facilities
Soil Mecanics Laboratory
Construction Material Laboratory
TransportationLaboratory/Road
Surveying
Structure Laboratory
HydraulicsLaboratory
Masonry
Carpentry
Welding andPlumbing Laboratory
Drafting Studio
ComputerStudio
Air Conditioned Classrooms, Infocuses, SpotFreeArea
Seminar Room