ABOUT STATE POLYTECHNIC OF SRIWIJAYA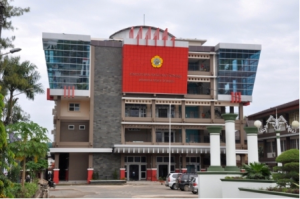 Address: Jl Srijaya Negara Bukit Besar Palembang 30139
Telephone: +62711353414
Fax: +62711355918
Web: http://www.polsri.ac.id
Email: info@polsri.ac.id
History State Polytechnic of Sriwijaya was formerly called Polytechnic of Sriwijaya University. It was officially opened on 20 September 1982. At the beginning, it had only 2 (two) Departments-Civil Engineering and Mechanical Engineering Department-with a maximum capacity of 576 students. The employed human resources and curriculum were assembled nationally and centered in Polytechnic Education Development Center (PEDC) in Bandung. In second phase, in year 1986, Polytechnic expanded Commerce Department consisting of two concentrations-Accounting and Administration. Then in 1987, Polytechnic expanded the field of Engineering. The new fields of Engineering were Electrical, Electronics, Telecommunication, and Industrial Chemical Engineering. In 1992, Commerce Department evolved into two departments, namely Department of Accounting and Department of Business Administration. Experts who helped in the development of engineering were from Swiss Contact, while experts for commerce were from Australia. In the year 2002/2003 two new departments-Computer Engineering and Information Management were established. This establishment was set based on the Director General of Higher Education letter No. 2800/D/T/2001. In the academic year 2002/2003, many educational developments happened in State Polytechnic of Sriwijaya among other the opening of Diploma III program. In 2002 D IV program for Road and Bridge Planning was established and then followed by the opening of D IV program for Energy Engineering in 2009. Polsri in collaboration with governmental institutions and companies opens joint classes for DIII program and DIV program. The existing joint classes in Polsri among others are D III and D IV programs for Road and Bridge Planning (in collaboration with Department of Infrastructure), Power Plant Study Program (in collaboration with Government of South Sumatra Province), Mechanical Engineering and Chemical Engineering Programs (in collaboration with ConocoPhillips), Chemical Engineering program (in collaboration with JOB Pertamina Talisman Jambi Merang started in the academic year 2011/2012), Electrical Engineering program for candidate employees of PT.PLN (in collaboration with PT PLN (Persero)). In the academic year 2011/2012, State Polytechnic of Sriwijaya had thirteen study programs and 4241 students. In the academic year 2012/2013 State Polytechnic of Sriwijaya in cooperation with local governments in South Sumatera opened community colleges and in 2012 Polsri became one out of three polytechnics of pilot project for Past Learning Program Recognition Diploma (RPL).
Vision Toward a leading, qualified and innovative vocational education institution.
Mission
Improving quality of education management in the field of engineering and non-engineering based on quality assurance system;
Developing, disseminating, and applying science, technology, art and good quality of applied research results for productive activities and for improving the quality of community life;
Developing organization and improving the quality of resource management to achieve effective, efficient, and sustainable performance;
Enhancing partnerships with third parties for mutual benefit in order to improve the quality of Tri Dharma.
Purposes
To increase the number of graduates that have good quality, high discipline, good morale, entrepreneurial spirit, environmental concept, and up to date information about industrial development;
To enhance the dissemination of science, technology and art, and qualifed results of applied research to be used in productive activities and improve the quality of community life;
To increase the quality of management by empowering and developing organization based on the principles of good governance and able to face future challenges;
To increase the quality and the efficiency of educational management service;
To increase the quantity and quality of mutual benefit partnerships with third parties;
To enhance partnerships with third parties for mutual benefit in order to improve the quality of Tri Dharma.